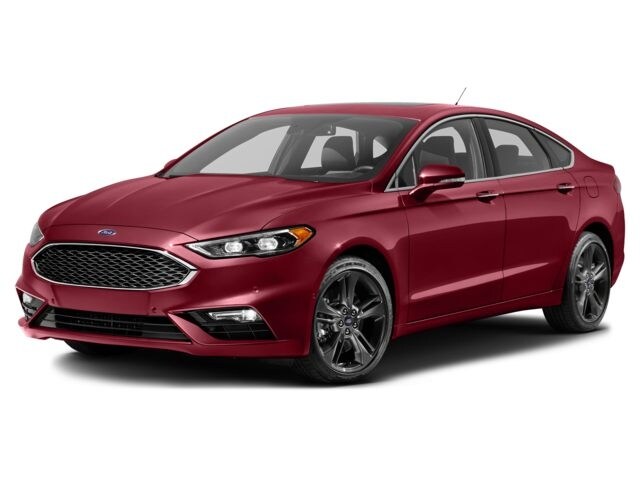 New Fusion Sport
Those looking for a performance sedan will love the all-new 2017 Ford Fusion V6 Sport model. Under the hood it features a new twin-turbocharged 2.7L EcoBoost V6 engine that produces 350-lb ft of torque. It's also available in All Wheel Drive, adding more power and better performance in all weather scenarios. The new Fusion Sport model produces more horsepower and better fuel economy than its closest competitors in Honda and Toyota.
Appearance-wise, the Fusion Sport gets a gloss-black mesh grille, 19-inch alloy wheels, rear spoiler and dual twin exhaust outlets.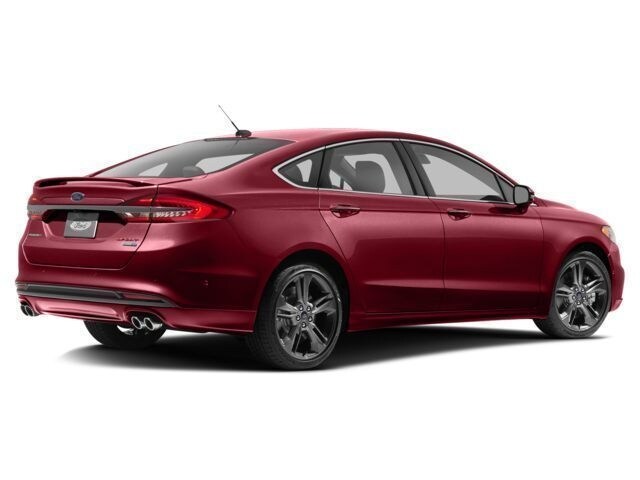 New Fusion Platinum Trim
Those seeking more luxury will love the new 2017 Ford Fusion Platinum model. This is the new top of the line Fusion with high-quality appearance features like leather seats, leather steering wheel, leather door panels and leather shift knob. Outside it comes with hand-painted grille accents and 19-inch alloy wheels. The Ford Fusion Platinum is powered by a 2.0L EcoBoost Engine and comes with all wheel drive.
New Safety Technology
The new
Ford Fusion
is keeping you and everyone around you safe thanks to the new safety technologies debuting in this model. The 2017 Ford Fusion is the first Ford to offer Pedestrian Detection System. Sensors placed at the pedestrian level keep an eye out for dangers like a child or puppy attempting to run in front of your car. If it detects a potential hazard, the Fusion will automatically slow down the vehicle and even apply the brake to help stop a potential collision.
Ford also offers hands-free parallel and perpendicular parking, meaning the car will literally park itself on a tight street, with little required from you. It also helps you pull out of that same tight spot at the end of the night.
Ford also offers lane-keeping assist, Blind Spot Monitoring, and a standard backup camera. All-in-all, the Ford Fusion is your guardian angel and serves as an extra set of eyes keeping you safe as you travel through life. It's harder than ever to get into accidents, keeping you and everyone else safer.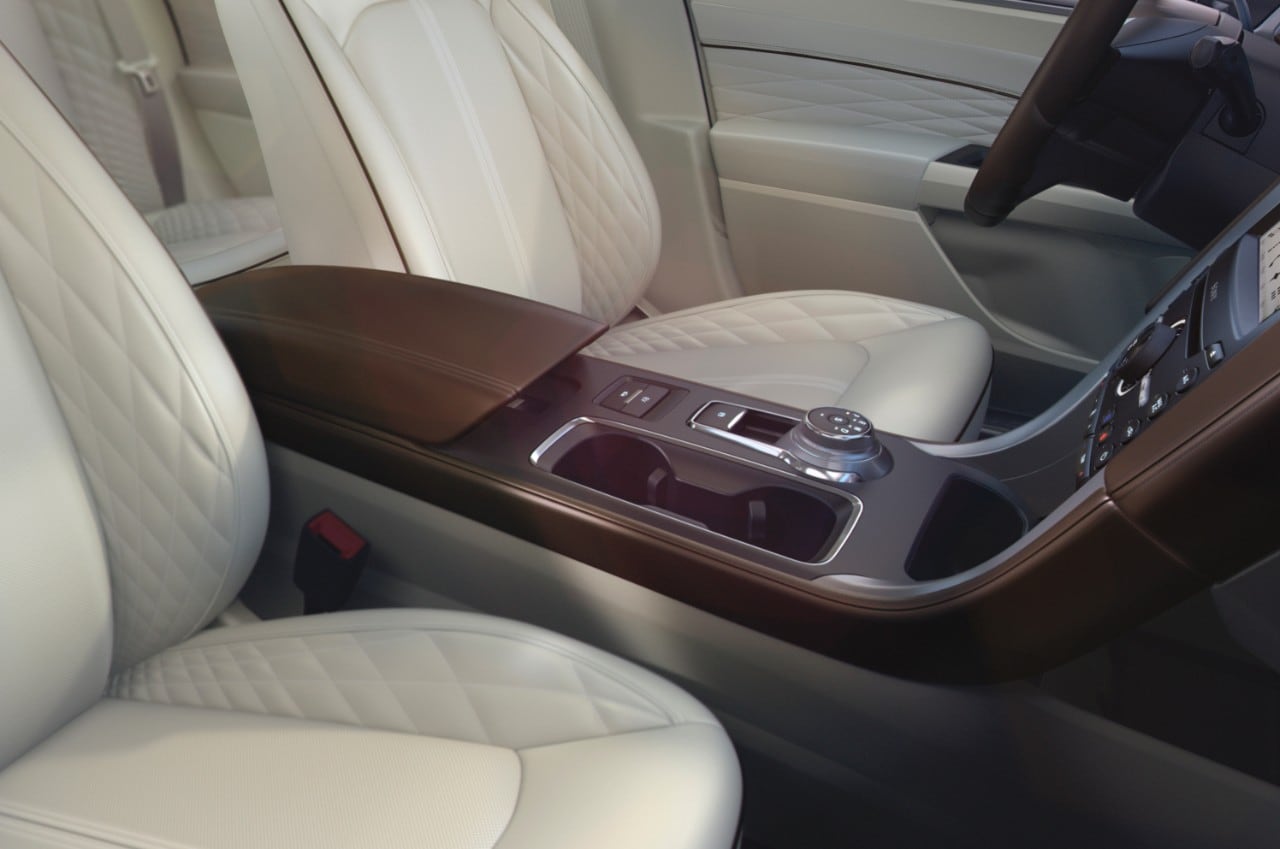 Innovative Cup Holders
The best new convenience feature of the
2017 Ford Fusion
is the cup holders! Think about how many times you had a cup or a bottle that didn't fit the cup holders properly, and think about what a pain that was. So Ford surveyed drivers across the world and asked them what they wanted in their cup holder. They found that one of the biggest complaints about their vehicle is that the cup holders don't actually hold their cups. So Ford has made a universal cup holder that debuts in the new Fusion. It fits every bottle, cup, mug and glass of all shapes and sizes.
Ford also found that most of the time, cup holders hold more than just cups. So the new Ford Fusion is designed to also easily store change, cell phones, wallets and more. In total, the 2017 Ford Fusion has up to six cup holders in the console, front door pockets and rear center armrests. This is one of those things where you'll think "why did take so long for someone to figure this out." Once you use this new cup holder system, you'll never want to carry a beverage in someone else's car.
New Ford SYNC 3
The Fusion also comes with the all-new Ford SYNC 3 System. If you had SYNC before, Ford took all the complaints you had and made all the necessary changes. The new Ford SYNC 3 system has the best voice recognition system of any car on the road today. Say "Call Mom," and it actually calls Mom -- not, Tom, Ron, Dom, Non, etc.
And the new voice activation system allows you to send text messages with the sound of your voice. You can also tell it to play Will Smith and you'll get jiggy with it on the way home from work.
Ford SYNC 3 connects with Apple Car Play and Android Auto for better communication between the car and phone. It will tie in to the apps already on your phone, including podcasts, Pandora, Spotify, Apple or Google Maps and more for a safer, hands-free and eyes-free ride home from work. You can also access sports cars, top news headlines and the stock market report. It even pairs with some of the top restaurant apps and you can order dinner from behind the wheel.
Ford MyKey Standard
One of the best features for parents with teen drivers is Ford MyKey. It comes standard on every new Ford Fusion, and it allows you to set a maximum driving speed, limit the maximum radio volume, and the radio will not play if everyone in the car is not wearing a seatbelt.
Other great standard features on all Ford Fusions include a rearview camera, push button ignition, chrome grille, 18-inch alloy wheels, and a capless fuel filling system.
The
Fusion
is available in nine exterior color choices and six interior color and fabric choices.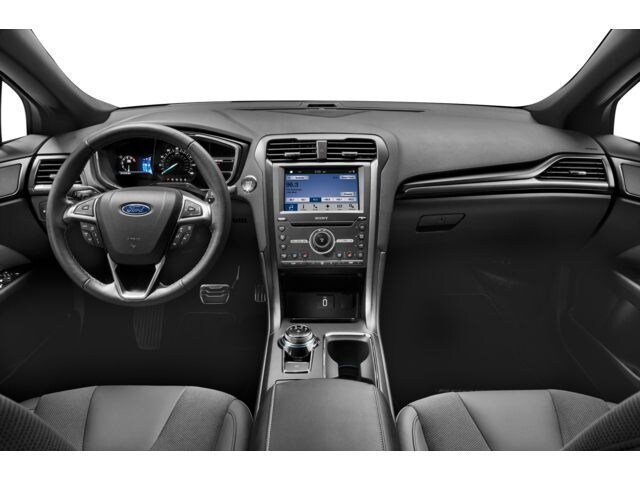 Waikem makes it Easy
George Waikem Ford
has been in business for almost 60 years. You don't stay in business that long unless you offer a great customer experience and great low prices. At Waikem, you'll find the area's best prices on new Ford Fusion models. We always offer $0 down payments, low interest rates and great Waikem Discounts and Factory Rebates.