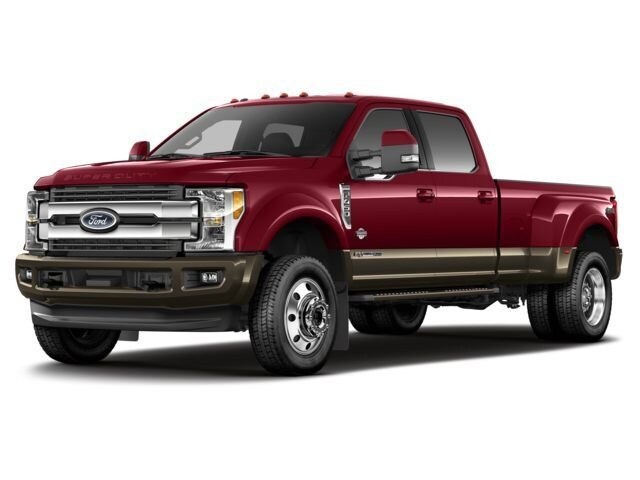 The
2017 Ford F-Series Super Duty
line gets a complete redesign for the new year. This year's model is built with high-strength, military grade aluminum and steel. Plus this year's model includes best in class towing, hauling and engine power. Add in class-exclusive technology options, and you'll know there's no better heavy-duty truck.
Super Duty Lineup
When we talk about the Ford Super Duty, we're including
Ford F-250
,
Ford F-350
and
Ford F-450 models
. That's 17 different trim levels and hundreds of configurations. When changes apply to all models, we will refer to it collectively as Super Duty.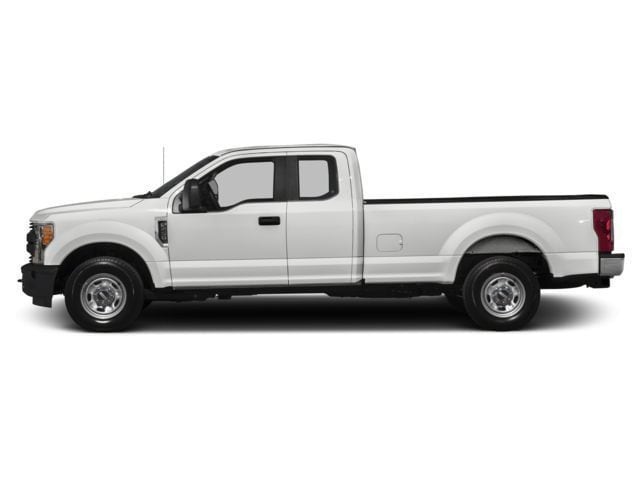 New Body
The
Ford F-Series Super Duty
features an all-new military-grade, aluminum alloy and high-strength steel. This year's model is 350 pounds lighter. The new Super Duty features a new fully boxed frame that is more than 95 percent high-strength steel and up to 24 times stiffer than the previous model. All of this means more towing and hauling capability than ever before.
Best in Class Towing
The
Ford F-450
SuperCrew 4x4 now has a maximum gooseneck towing of 32,500 pounds, 1,290 pounds more than the closest competitor. Maximum fifth-wheel towing increases to 27,500 pounds – 2,500 pounds better than the nearest competitor. Gross combined weight rating for F-450 Super Duty is a class-leading 41,800 pounds.
Maximum conventional towing increases to 21,000 pounds – 1,000 pounds better than the nearest competitor truck without the need for a weight-distributing hitch. Maximum conventional towing for F-250 with all-new trailer tow package and single-rear-wheel F-350 increases to a class-leading 18,000 pounds.
Maximum gross combined weight rating for truck and trailer now tops out at a class-leading 41,800 pounds. That's more than half the maximum weight of an 18-wheeler semi-tractor trailer combination on most federal highways.
Other Durability Upgrades
The
2017 Super Duty
is engineered with a stronger frame and axles for super load-carrying capabilities. The Super Duty F-450 model has the largest brakes in its class. A bigger fuel tank also means you go a longer distance with less stops.
Best in Class Engines
The optional Ford-designed, Ford-built 6.7-liter Power Stroke® turbo diesel V8 produces best-in-class 925 lb.-ft. of torque and 440 horsepower. The standard 6.2-liter V8 engine produces best-in-class 430 lb.-ft. of torque and 385 horsepower.
Both diesel and gas engines are backed by a TorqShift six-speed automatic with SelectShift® for reliable and efficient cross-country towing. F-250 with 6.2-liter V8 and all-new TorqShift-G six-speed automatic delivers more responsive shifting for three-quarter-ton Super Duty customers.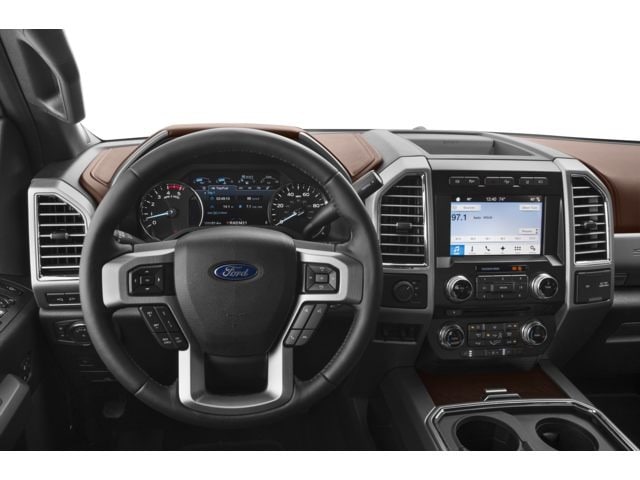 Innovative Technology
The
Super Duty
is a tech marvel with many options you don't usually find on this class of trucks.
A trailer guidance system makes it easier than ever to hook up a trailer. Visual cues and tips help guide you into the hitch, plus the Super Duty offers the first factory-available trailer camera to improve visibility when backing up while hitched to the trailer.
The new Super Duty offers an optional 360 degree birds-eye view camera showing you what's happening in front, behind and to the sides of your truck. It's never been this easy to park a Super Duty, or navigate around tight job sites.
With class-exclusive adaptive steering, the vehicle's steering ratio is automatically adjusted to adapt to the vehicle's speed. For instance, in slower speeds, the steering ratio increases, requiring fewer turns and less effort. At higher speeds, the steering ratio gradually decreases, leading to a more firm, confident driving experience.
Class-exclusive Blind Spot Monitoring System signals the outside mirrors when a vehicle is detected in your blind spot. It also provides coverage for the truck and any attached trailers. There's also optional lane departure warning and adaptive cruise control with collision warning and brake support.
Adaptive Cruise Control automatically slows you down and speed you up based on the flow of traffic around you. If a head-on collision or danger ahead seems imminent, the brakes are precharged for full responsiveness.
Lane Departure Warning vibrates the steering wheel when you drift too close to a lane marker.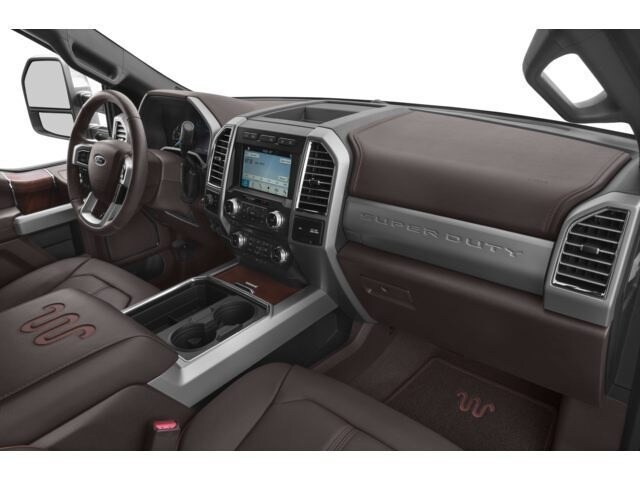 Ford SYNC 3
The
F-Series
also comes with the all-new Ford SYNC 3 System. If you had SYNC before, Ford took all the complaints you had and made all the necessary changes. The new Ford SYNC 3 system has the best voice recognition system of any car on the road today. Say "Call Mom," and it actually calls Mom -- not, Tom, Ron, Dom, Non, etc.
And the new voice activation system allows you to send text messages with the sound of your voice. You can also tell it to play Johnny Cash and you'll fall in to a burning ring of fire on the way home from work.
Ford SYNC 3 connects with Apple Car Play and Android Auto for better communication between the car and phone. It will tie in to the apps already on your phone, including podcasts, Pandora, Spotify, Apple or Google Maps and more for a safer, hands-free and eyes-free ride home from work. You can also access sports scores, top news headlines and the stock market report. It even pairs with some of the top restaurant apps and you can order dinner from behind the wheel.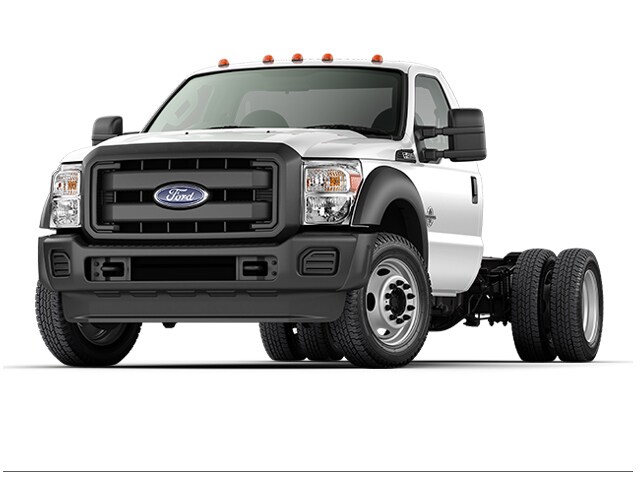 Make it Yours
Everything above is just scratching the surface of the Ford Super Duty's capabilities. With the aforementioned 17 models and body styles, there are literally hundreds of ways to build a new Ford Super Duty. With packages, add-ons, accessories and more, there is a Ford SuperDuty built for your job site.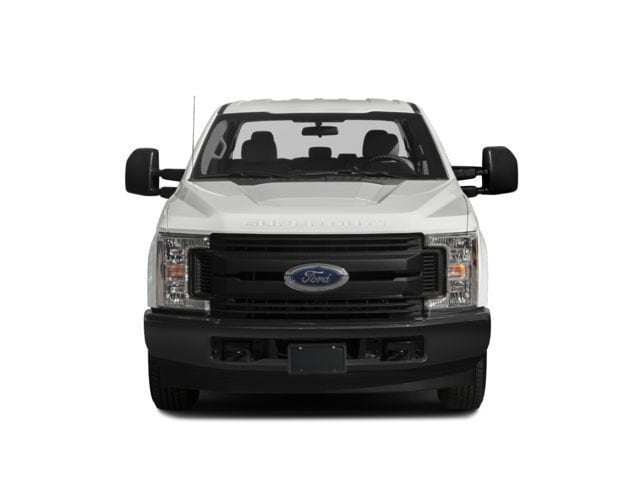 Save the Waikem Way
At
Waikem
, we make the Super Duty more affordable than ever. We offer Waikem Discounts, Factory rebates and other incentives to offer the area's lowest Super Duty price. Plus, Ford offers other specialty discounts depending on how you plan on using your truck.
Plus when you chose to purchase a Waikem, you're choosing a locally owned and operated Ford dealer who has been selling Fords in this community for more 60 years. Our sales staff has more than 100 years of local sales experience. We know why you need a Super Duty, and we know how to help you find the perfect one for your driveway.