The
2018 Ford EcoSport
is a brand new smaller crossover SUV, and it has arrived at George Waikem Ford in Massillon, Ohio. It's aimed for those seeking more space, new technology and better fuel economy. If you want the cargo and people space of an SUV with the MPGS of your smaller sedans, the EcoSport is the perfect vehicle for you.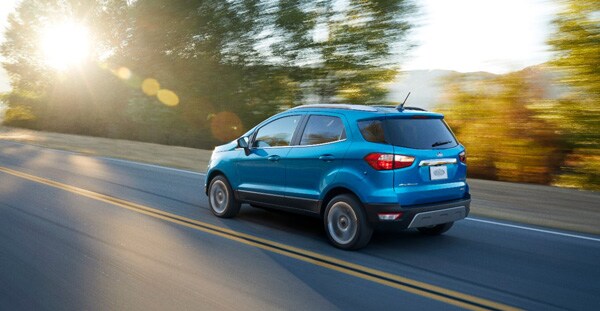 What is it?
The
Ford EcoSport
will be the most fun vehicle on the road when it hits the road. You can fit five people inside. There is more cargo and people space than the typical vehicle its size. It has ten fun, unique colors that stand out in any parking lot, along with six unique interior color options that give a personal touch.
Innovative Engines
The
EcoSport
comes standard with a 1.0-liter EcoBoost engine, voted the world engine of the year in three consecutive years. Plus the standard auto start-stop engine means you're only burning fuel when the car is in motion. If you're at a stop sign or a red light, the engine cuts out and preserves fuel. The second option is a 2.0L direct-injection engine that will likely hover around 29 MPG.
The EcoSport comes standard with front wheel drive and has an available four wheel drive option.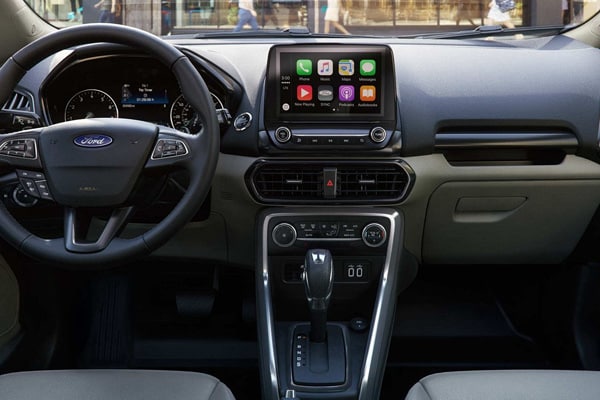 Technology
Technology is a major reason why people are already excited about the Ford EcoSport. It comes standard with a backup camera , Bluetooth and multiple USB charging ports.
Upgrades include Ford SYNC 3 System with Apple CarPlay and Android Auto. On an 8-inch touch screen, you can easily access the top apps from your phone, including the podcasts, saved music, and Apple or Google Maps. With Apple CarPlay or Android Auto, you can also easily make and take hands-free phone calls or send a voice activated text message. Text messages are also read over the speakers.
It's never been safer to stay connected while driving.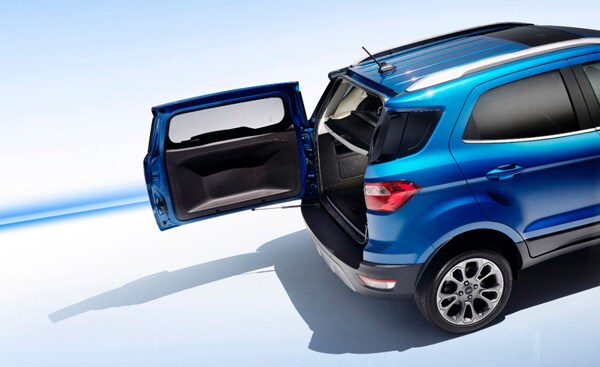 Safety Tech
The
Ford EcoSport
includes optional BLIS – Blind Spot Information System. Radar is used to identify vehicles in your blind spot, and an indicator on your side mirror lets you know if someone is there when you're trying to change lanes.
The Ford MyKey system is standard, and it's the safest way to handle a new teen driver. You can set a maximum speed that cannot be exceeded or a maximum radio volume. The radio will not play unless everyone in the car is wearing a seat belt. The owner can get reports on travel distance, average speed and more.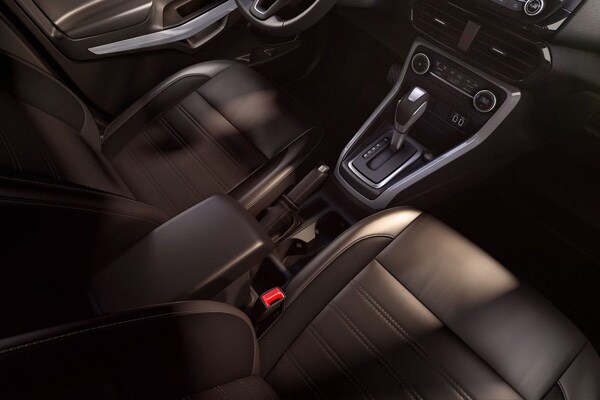 High End Options
The
Ford EcoSport
has available options like a moonroof, leather trimmed heated front seats, leather wrapped steering wheel, and leather shift knob.
The unique rear swinging gate makes storage easier. Instead the standard up-lifting tailgate, it opens wide like a door, so you're not limited by height. Tall drivers won't bump their head either.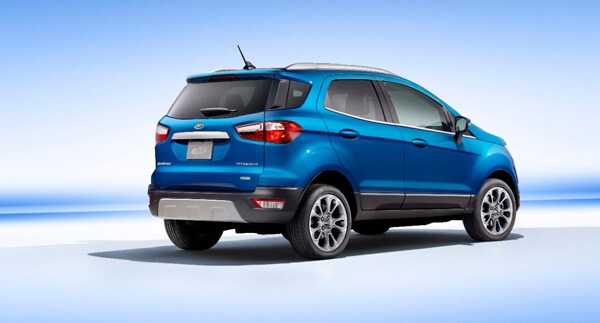 The Waikem Way
At
George Waikem Ford
, it's easy to put the Ford EcoSport in your driveway. We offer the area's best EcoSport prices thanks to Waikem Discounts and Factory Rebates.
Waikem the area's last locally owned and operated Ford dealership. When you shop at Waikem, you're reinvesting in Stark County. We offer that personal, small business experience you're looking for in all aspects of your shopping experience. With a Waikem family member in every store, every day, we take care of you and make sure you get the best price and have the best experience. It's no wonder we have so many five-star ratings on both Google and Facebook.